Lödige Industries is one of the world's leading suppliers of logistics systems and lifting solutions with more than 1200 employees and subsidiaries in Europe, Asia, America and the Middle East.
For 75 years, we have focused on quality, innovation and partnership. Moving, arranging and storing heavy goods permanently and reliably requires special know-how. In response to the individual requirements of our customers, the teams of experts at Lödige Industries develop systems ranging from elevators to complex material flow systems that occupy a leading position worldwide.
Using state-of-the-art technology, we guarantee maximum efficiency, long-term competitive advantages and satisfied business partners. Our engineers design sophisticated conveyor technology that is precise and future-proof, easy to operate, particularly efficient and durable. A global network of service centres ensures highest availability. Lödige Industries stands for quality, innovation and high-performance logistics solutions worldwide.
Established in 1948
Ownership structure: 100 % privately owned
Over 1,200 employees worldwide
50,000+ projects
Production area: Germany 21,000 sqm | Romania: 3,500 sqm
Active in over 40 countries across the globe
Be inspired by sophisticated architecture
"Focus on Architecture"
In this book you will find outstanding architectural projects (FUTURIUM Berlin, MARINA ONE Singapore, MIZAL Campus Düsseldorf, and many more) that have one thing in common: Behind the scenes, technology from Lödige Industries provides more parking space and/or smooth load transport.
We are proud to be able to present these worldwide projects to you and would like to thank our customers and partners for allowing us to publish this information here.

Quality and flexibility - in-house manufacturing
Having our own in-house production facilities in Germany and Romania not only guarantees the required high product quality but also enables flexible, fast and cost-optimised order processing.
Industry and sustainability in harmony
Moving heavy goods efficiently is our core competence. As a globally active industrial company with high energy requirements, we want to be sustainable and create a long-lasting positive impact on our environment.
Where we come from - Our history
For more than 70 years, our motivation has remained the same. We're making the movement of heavy goods easy.
News
Recent news from Lödige Industries
Events
Meet us at these events!
We participate in a variety of events worldwide. Meet our colleagues to find out how we can support you…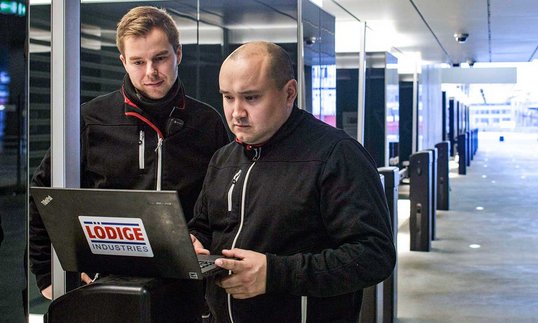 Career
Working at Lödige Industries