Lorry lifts facilitate urban logistics
Bring your delivery traffic to a new level
You know this: the "last mile" is often loaded in the second row and the crowded delivery areas stress business operators and residents. Second-tier loading also costs valuable time.

Experience new solutions for urban logistics with a truck lift by Lödige Industries ...
Save space in the delivery area
Win valuable time
Increase safety during loading an unloading

And this is how it works: A truck lift raises the lorries directly to the building or within the building to the appropriate level. So the truck is loaded or unloaded directly at the right level.
3 big advantages when using a truck lift
Space-saving loading
Slim loading zone: only one driveway is enough
Logistics area in the basement:completely without a ramp
Time-saving internal transport
Short transport routes within the building: directly loaded in the right place - eg. B. in the 3rd floor
Relocated on a time-independent basis: With a second platform, you can use one loading point for several processes
More safety when loading
Regardless of weather and traffic: protected against external influences
Protected area: access only for authorized persons
Watch the lorry lift in action
This lorry lift in the centre of London eases access for delivery and facility management.
In 2003 Lödige Industries received a request from the city of Tilburg, which was urgently looking for a lift solution for its theatre. Now, a street-level truck lift with a capacity of 40 tonnes can safely transport the loaded trucks to the desired height. Watch this video to discover more.
Choose the perfect lorry lift for your loading process
What should you look for in a truck lift?
The most important selection criteria are lifting height, platform dimensions and load capacity. Individual structures and safety precautions are of course possible. The truck lifts can be controlled manually or automatically. We advise you gladly and develop your optimal truck lift!
Here is an overview of our basic models:
GIANT HS
Lifting height up to 2 m
Platform length 7 - 20 m
Load capacity up to 50 t
Lorry Lift
with half scissors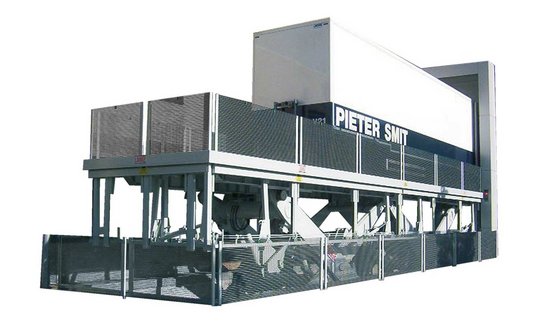 GIANT TS
Lifting height up to 5 m
Platform length 13 - 20 m
Load capacity up to 40 t
Lorry lift with
tandem scissors
GIANT ES
Lifting height up to 10 m
Platform length 9 - 20 m
Load capacity max. 65 t
Lorry lift
with single scissors
GIANT DS
Lifting height up to 15 m
Platform length 5 -18 m
Load capacity max. 40 t
Lorry lift
with double scissors
May we take your delivery traffic to a new level?
Please contact us