Car Park Solutions - space-saving and user-friendly
A new level of parking freedom from Lödige
Save space when parking cars with the Lödige car park solutions. Featuring state-of-the-art technology, we develop, realise and upgrade transportation and parking solutions for a single car through to over a thousand. Our diverse product variants can be adapted to individual requirements and integrated perfectly into both new and existing buildings.
State-of-the-art technologies
With in-depth specialist knowledge and state-of-the-art technologies, we create space for safe, convenient parking. Our car park solutions are easy to operate and feature a high level of system reliability. Incorporating your specific requirements is very important to us and we work with you to develop solutions for indoor and outdoor systems.
Parking solutions for a wide variety of applications
Residential Parking
Extreme space-saving and e-charging ready:
our parking technology for residential and commercial buildings parking can enable your building permit and financial close.
Public Parking
User-friendly parking with high-performance technology: geared towards high frequency and fast retrieval our automated parking systems add space and appeal to your public building project.
Car Lifts
Lödige car lifts offer a wide range of solutions that enable vertical car transportation. These solutions render space-consuming, expensive ramps and ascents superfluous.
Lorry Lifts
Bring your delivery traffic to a new level:
A truck lift raises the lorries directly to the building or within the building to the appropriate level.
A car lift?
Or an automatic parking system?
This product finder shows you suggested solutions for your project in just three steps.
Results are displayed directly to you (no registration).
Tools and information for architects and planners
Find and plan the right car lift or parking system for your individual building project from preparation and briefing through design concept, manufacture, construction and use.
0
parking spaces under Lödige service*
*Installed systems, refurbished systems and systems under construction
Find out more about Lödige Parking Solutions
Further information is available for you in our Download-Centre. Please use this link to our download-centre to find all documents available in one location.
Lödige Industries - Focus on architecture

The projects explored in this volume show, represents an answer to the challenges of urbanisation: saving space where it is at a premium, facilitating access in ever denser urban areas and reducing pollution.
Parking Solutions
Space-saving and user-friendly car parking solutions for storing from 1 to 1000 cars or more
Our parking solutions portfolio
Explore our full portfolio to discover the best solution for your project.
Automated parking systems
Optimum use of floor space for underground car parks, residential, multi-purpose or public buildings
Explore our car lifts
No space or desire for an access ramp? Transport cars up or down with our space saving, reliable car lifts.
Ease logistics with our lorry lifts
Grant easy access to your inner city buildings with our proven lorry lifts up to 100 tonnes.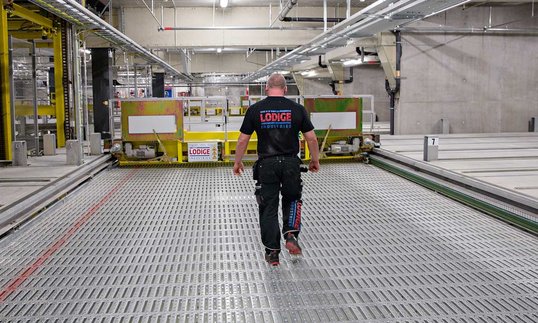 Service, maintain or upgrade with us
Our service solutions ensure your parking solution keeps working for you.