Second Asia Airfreight Terminal in Hongkong tripled capacity
World's tallest elevating transfer vehicles in China
In August 2004, Lödige signed a contract to deliver a multi-level material handling system for the new Asia Airfreight Cargo Terminal in Hong Kong. AAT tripled its cargo handling capacity and provided state-of-the-art technology by investing in a second terminal from Lödige.
The total annual handling capacity was expanded to 1.5 million tonnes combining Terminal 1 and Terminal 2. The new Terminal 2, completed in 2006, is now capable of handling an additional 910,000 tonnes per annum. Peak day loadings are at 4,000 tonnes per day. Cargo handling efficiency has risen to 20 tonnes per square meter. On restricted total floor area of approx. 117,000 sqm, it comprises four floor levels. The terminal hosts the four tallest elevating transfer vehicles (ETVs) in the world. The combination of speed of 2m/s and height of 43m remains unique in the world of air freight handling. It provides support of advanced IT applications, enabling access to performance reports. From general cargo freighter, via perishable cargo to express cargo, performance data is summarized in the supporting terminal application and provides an overview of necessary adjustments.
Asia Airfreight Terminal (AAT) is based at Hong Kong International Airport Chek Lap Kok, New Territories, Hong Kong, Asia's premier and the world's busiest passenger and cargo hub. The Airport is one of Asia's leading airports in 2020 and 2021, winning "Asia Pacific Airport of the Year" Award at the 2016, 2017 and 2021 Payload Asia Awards. AAT has two terminals, Terminal 1 and Terminal 2, serving the world's leading airlines, offering a comprehensive range of quality services, from physical cargo handling to documentation processing. Approximately 30% of Hong Kong International Airport's total cargo handling capacity is served by AAT, which is the Ground Handler of the Year in the Payload Asia Awards 2021.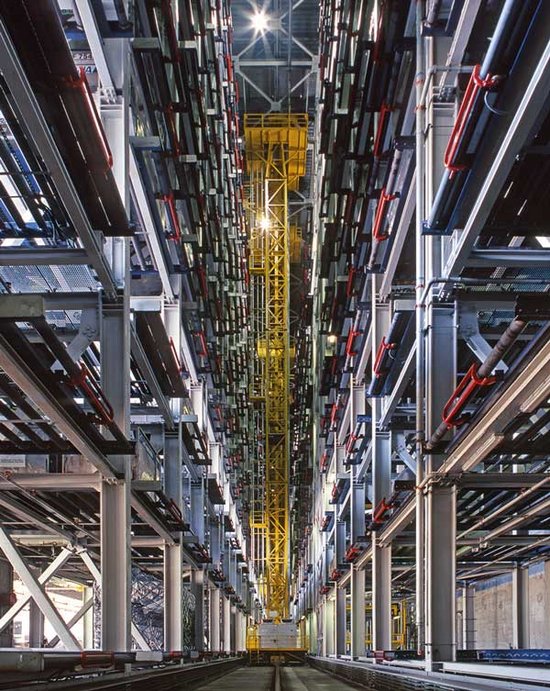 Project details
Client: AAT
Location: Asia Airfreight Terminal 2, Hong Kong
Completion date: December 2006
Capacity: 910,000 t
Busy day handling capacity: 4,000 t/day
System: Fully automated ULD and cargo storage system
Equipment/ components
4 x 10 ft 13 level Elevating transfer vehicles ETVs (height: 43 m)
9 x Stacker cranes (height: 30 m)
2,500 Pallet positions
1,850 ULD storage positions
7 Transfer vehicles
38 Fixed workstations
5 Vertical (hoist) conveyors
45 Airside Dolly docks
6 Landside Truck docks
5 Cool room positions
9 10ft and 1 20ft Elevating workstations
956 10ft Storage positions