Service solutions for parking systems
Lödige Industries provides bespoke maintenance services for parking systems to guarantee your system operates reliably and at the required performance levels. We offer various levels of support to suit your needs.
MAINTENANCE - Maximize the reliability and performance of your parking system
Show more
Show less
We provide a variety of maintenance services tailored to suit your need. Our field service offers the following on competitive unit rates or based on a fixed monthly fee, depending on your requirements:
Preventive Maintenance;
Breakdown and Repairs Call Out;
Predictive Maintenance;
Programmable Device support;
Compliance with Safety Requirements;
Scale calibration and certification services;
Professional Engineer services;
Ad hoc support for your existing maintenance team.
Residential Service
Our Residential Service product provides a managed, comprehensive maintenance service designed to maximise overall system availability and reduce overall cost, delivered by a team of experienced and highly trained maintenance technicians based on your site.
Services provided under this product are tailor made to suit but can typically include:
Preventive Maintenance;
Predictive Maintenance;
24 hr Breakdown and Repairs;
Computerised Maintenance Management Systems (CMMS);
Support for all programmable devices;
IT Application & Hardware, Network / LAN Support;
Spare Parts;
SCADA operations;
Specialist Engineering Services;
Compliance with safety requirements;
Scale calibration and certification services;
Professional Engineer services.
MODERNISATION - Improving the performance and efficiency of your parking system
Show more
Show less
We can perform the following common system modernisations:
PLC upgrades (Siemens, Allen Bradley, Mitsubishi, Omron, etc.);
Mobile equipment (hoists, transfer vehicle, SRM) overhaul or replacement;
DC to AC drive conversion;
Safety system upgrades;
Horizontal & vertical speed / positioning system upgrades;
SCADA system upgrades;
Sensor upgrades.
Typical System enhancements may include:
Integration of additional storage, conveying or throughout capacity;
Integration of vertical conveying capacity;
Conversion of unpowered to powered conveyors;
IT application replacement;
Process optimisation;
Equipment dismantling, relocation.
All modernisation projects take into account:
Concept / Layout design;
Car parking processes;
Mechanical design & integration;
Electrical design & integration;
PLC programming;
IT networks, platforms, peripherals and software applications.
SPARE PARTS & REPAIR - Genuine spare parts and components
Show more
Show less
Supply of genuine Lödige parts;
Supply of genuine OEM parts;
Specification and supply of recommended spare parts packages;
Obsolete / Legacy part migration;
Parts repair and refurbishment.
In addition to the above, expert Lödige technicians can be quickly dispatched to your site to deal with emergency breakdowns directly or to support your local maintenance team as required.
Leveraging our know-how to boost your success
Show more
Show less
Maintenance optimisation – cost vs performance;
Maintenance outsourcing – focus on your core business;
Operational process optimisation – get the best out of your car park system;
Control system upgrades – to the latest state of the art;
Equipment refurbishment / replacement – increasing performance and reliability;
Contact us to arrange a meeting to talk through your needs.
We look forward to your message.

Frequently Asked Questions
Parking maintenance services refer to a range of services designed to ensure the proper functioning, cleanliness, and overall maintenance of parking lots or parking structures.
Parking maintenance services help create a positive first impression for visitors or customers using a parking facility. Regular maintenance ensures the safety and functionality of the parking area, reducing the risk of accidents or damage. Well-maintained parking lots also enhance the overall aesthetics and value of the property.
Parking maintenance services are relevant for various types of parking facilities such as commercial parking lots, parking garages, residential parking areas, institutional parking spaces (hospitals, universities, etc.), and municipal parking structures.
The frequency of parking maintenance services depends on factors such as the volume of traffic, weather conditions and the specific needs of the parking facility. Generally a routine clean should be performed on a regular basis, while repairs and maintenance tasks may be scheduled as needed or at regular intervals (e.g., quarterly or annually).
Prompt repairs of damaged pavement, signage or parking equipment can help eliminate potential hazards and prevent accidents to improve the safety of a parking facility.
The cost of parking maintenance services can vary depending on the size of the facility, the scope of work required and the frequency of service. It's best to request a quote from our team to get an accurate estimate based on your specific requirements.
Parking Solutions
Space-saving and user-friendly car parking solutions for storing from 1 to 1000 cars or more
Our parking solutions portfolio
Explore our full portfolio to discover the best solution for your project.
Automated parking systems
Optimum use of floor space for underground car parks, residential, multi-purpose or public buildings
Explore our car lifts
No space or desire for an access ramp? Transport cars up or down with our space saving, reliable car lifts.
Ease logistics with our lorry lifts
Grant easy access to your inner city buildings with our proven lorry lifts up to 100 tonnes.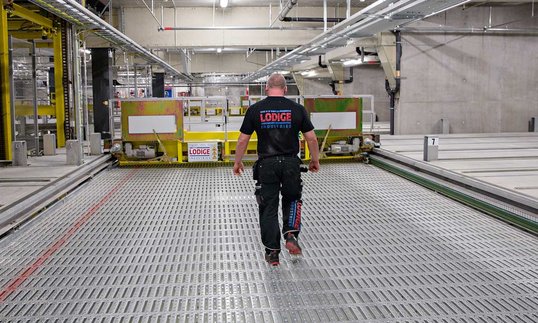 Service, maintain or upgrade with us
Our service solutions ensure your parking solution keeps working for you.